Smokers have been around for a while, and grills have come a long way. It used to be that if you wanted the best of both worlds, you'd have to buy two separate appliances. But now, smoker grill combos are becoming more and more popular.
In this post, we'll explore what makes these combos so great and recommend some of our favorites. So whether you're an experienced smoker or just getting started, read on to find out why a combo might be the right choice for you!
Best over all
– Traeger Pro Series 22


Looking for a grill that can do it all? Look no further than the Traeger Pro Series 22 Electric Wood Pellet Grill and Smoker. This premium grill is fueled by 100% all-natural hardwood pellets, so you know your food will always taste amazing.
Plus, with Traeger's advanced temperature control system, you'll get consistent results every time you cook. Whether you're grilling, smoking, baking, roasting, or braising, the Pro Series 22 has you covered.
And for those times when you want to try something new, Traeger's handy recipe book includes recipes for everything from ribs to apple pie. Make outdoor cooking easy with the Traeger Pro Series 22 Electric Wood Pellet Grill and Smoker.
Features:
Cooking Capacity – 572 Sq. In.
Hopper Capacity – 18 lbs
Accommodate – 4 Chickens, 5 racks of ribs or 24 burgers 
 450 °F Max Temp
This versatile grill offers 6-in-1 versatility to grill, smoke, bake, roast, braise, and BBQ food to juicy perfection.
The Digital Pro Controller has Advanced Grilling Logic to keep temps within plus/minus 15 degrees F for guaranteed precision grilling.
The rugged all-terrain wheels easily conquer any backyard terrain. Two meat probes let you monitor multiple cuts of meat without needing to lift the lid.
Pros
Heavy-duty and built to last
Easy to use
there is zero fire management required with this grill
Easy to put together
The Traeger app is a huge bonus and has hundreds of recipes.
Easy to start up and set very accurate digital temperature reading
easy to clean up after use and easy to shut down
came with two temperature probes that take all the "guesswork" out of cooking on the grill
Great for cooking pizzas, burgers, brats, steaks, chicken, and veggies
Cons
There is a learning curve
Best Budget Grill Smoker Combo –
Char-Griller E166 Akorn Kamado


Welcome to the world of Kamado-style grilling! With the Char-Griller AKORN Kamado BBQ Grill and Smoker, you can enjoy all the deliciousness of this style of cooking without having to leave home.
This versatile grill and smoker is built to last, with triple-walled 22 gauge steel that can easily maintain cooking temperatures ranging from 200-700 degrees Fahrenheit. The Kamado design makes it fuel efficient, so you can use less charcoal when cooking.
Plus, with easy temperature control thanks to the top and bottom adjustable dampers, you'll be able to get your food just how you like it every time.
Features:
447 square inch total Cooking Area
cook up to 27 burgers at once
This tough grill is constructed from triple walled steel and features a powder coated exterior finish. It's easy to control the temperature on this grill, thanks to the top and bottom indexed dampers.
And it's large enough to accommodate plenty of food, with its 314 square inch cast iron grilling area and 133 square inch removable warming rack. Plus, it has large locking wheels for easy mobility. 
 With its adjustable top damper, you can maintain airflow and heat control with ease, while the built-in temperature gauge ensures that your food is cooked perfectly every time. The bottom damper also allows you to control airflow for precise temperature control, and the easy dump ash pan makes for quick and easy clean up.
Pros
Well-designed and affordable
Charcoal usage can be adjusted depending on how long you're cooking for.
efficient and is able to maintain temperature well, even in below freezing temperatures.
great for cooking burgers, chicken, pork ribs, and pizzas. 
can control temp for long periods with almost no adjustments and is very easy to start.
The damper on top lets you easily control temperature and smoke,
a very charcoal-efficient grill – most coals will remain usable if you close both dampers afterwords.
Spacious and can smoke a whole brisket or grill 12 large burger
 the removable bottom ash collector
Cons
Low quality cover
The Kamado Joe Classic III
– Best high end


The Kamado Joe KJ15040921 Classic Joe III 18-inch Charcoal Grill with Cart is the perfect addition to any backyard. This grill features a patent pending SlōRoller Hyperbolic Smoke Chamber, which evenly distributes smoke and heat for enhanced flavor and reduced hot spots.
The 3-Tier Divide & Conquer Flexible Cooking System transforms the humble grill grate into a powerful cooking tool, allowing you to cook different foods in different styles at different temperatures all at the same time. 
This premium 18″ ceramic grill is built to last with its heavy-duty galvanized steel rolling cart and locking wheels.
The Kontrol Tower Top Vent allows for precise airflow management during grilling, smoking and searing, while the Air Lift Hinge reduces dome weight for easy opening and closing. With its powder-coated cast aluminum construction, this grill is weather-resistant and built to withstand the elements
Features:
 smoke from 225F all the way to searing at 750F.
With its Air Lift Hinge, this grill significantly reduces the weight of the dome, making it easy to lift and open.
Additionally, the 3-Tier Divide & Conquer cooking system lets you cook different foods at different temperatures all at once. And for enhanced flavor on those low and slow cooks, the Kamado Joe features a SloRoller Insert that creates rolling smoke. 
This great grill features a charcoal basket divider that creates separate cooking zones, as well as a removable basket for easy clean up. The temperature and airflow are easily controlled with the Kontrol Tower Top Vent, and the heavy-duty cart has locking wheels for easy movement.
Pros
Well made and easy to assemble
Versatile: being able to grill hot, smoke low, or do a fresh pizza
Quality grates and ceramic
the air hinge for the dome is a life saver.
Cons
Dialing in the temperature has a learning curve,
Pit Barrel Co. Cooker – Best Charcoal


Looking for a superior grilling experience? Look no further than the Pit Barrel Cooker Classic Package. This 18.5 inch drum smoker is perfect for cooking pork, beef, poultry and vegetables with ease. The unique design of the Pit Barrel eliminates guesswork and provides 360-degree coverage for perfect results every time.
Additionally, the Pit Barrel comes equipped with stainless steel hangers for grilling and smoking meats, vegetables and more.
This package includes the Pit Barrel Cooker, a heavy duty all-around cover, the Ultimate Hook Tool, the Ultimate Spatula, and the Ultimate Tongs. This cooker is great for smoking all types of meats and vegetables to perfection. With the included cover, you can shield your Pit Barrel from the elements, ensuring that it will last for years to come. 
Features:
This 18.5 inch drum smoker uses vertical barrel cooker technology to create perfectly cooked, great-tasting food every time. Whether you're grilling or smoking ribs and brisket, the Pit Barrel Cooker is extremely versatile – perfect for sear-marks and smoking everything from burgers to desserts!
With its 360º All-Round Heat Dynamics, this cooker makes outdoor cooking easier than ever before.
This top-of-the-line cooker is made with a durable, high-quality porcelain enamel finish that looks great and can withstand internal heat and weather conditions. It's also lightweight and portable, so you can take it wherever your grilling skills are in demand.
The Pit Barrel Cooker easily fits 8 racks of ribs, 2-3 pork butts or shoulders, and comes with turkey hangers to accommodate 2 16 lb turkeys. 
Pros
Great Build Quality 
Set it and forget it
easy to use: no fiddling with air vents, simple to set up for each cook
high capacity: 8 racks of ribs or 4 chickens, or 2 turkeys at a time
Easy Clean-Up:just dump the charcoal out of the bottom when you're done
easy to transport: all pieces fit inside the barrel, which fits in the trunk of a car
maintains a low, consistent heat inside the unit for extended periods of time
Versatility:  can be used for grilling or slow cooking
Cons
The amount of charcoal the instructions advises is overkill for short cooks like chicken
Best Kamado Style Grill and Smoker –
Char-Griller E06614 AKORN Jr


The Char-Griller E06614 AKORN Jr. Portable Kamado Charcoal Grill is the perfect choice for grilling on-the-go. This kamado style grill is compact and easy to transport, making it ideal for tailgating, camping, or picnicking.
The locking lid traps smoke, heat, and moisture, creating flavorful barbecue that is juicy and tender. With its insulated design, the Char-Griller E06614 AKORN Jr. Portable Kamado Charcoal Grill uses less charcoal than traditional grills, saving you money and time.
If you are looking for a portable grill that is packed with features and easy to use, then look no further than the Char-Griller E06614 AKORN Jr. Portable Kamado Charcoal Grill.
Features:
155 Square Inch cooking area 
This grill is made from heavy-gauge powder coated Steel with thick Cast Iron cooking grates, so it's built to last. And with its easy-to-use controls and removable Easy Dump Ash Pan, it's also a breeze to use and clean. Plus, its 155 Square Inch cooking area and precise temperature controls make it perfect for searing steaks, smoking wings, or grilling up to 8 Burgers at once. 
This grill is perfect for tailgating, camping, or picnicking, thanks to its easy lift handles and compact design. The cast iron grates provide enhanced flavor and unbeatable heat retention, while the dual dampers allow you to control the temperature with precision. The easy dump ash pan makes clean up a breeze, so you can spend more time enjoying your food and company. 
Pros
made of steel with "triple insulated walls"
easy to use and store 
easy to season the cast iron grate by following the manual's instructions 
has plenty of cooking space for a big brisket or medium sized turkey.
easy to clean out with the ash tray on the bottom.
Cons
The handle is tricky to assemble
Best Vertical Smoker Grill Combo: Weber Smokey Mountain


The Weber 18-inch Smokey Mountain Cooker is the original kettle-style grill. It has been around for more than 40 years, and it's still the best way to cook slow and low with indirect heat. The legendary design of this smoker allows you to add smoke flavor to your food without exposing it directly to a flame. This means less flare-ups, which in turn means better tasting food!
Weber's Smokey Mountain Cooker lets you get the perfect fit for your needs, whether you're smoking ribs, chicken, or brisket. Choose from 3 sizes – 14″, 18″, and 22″ – to find the smoker that's just right for you. The 18″ size is perfect for 4 racks of ribs or a whole chicken, while the 22″ size can accommodate up to 6 racks of ribs or a large brisket.
–22″ is for big items (full rib racks laying down, etc) or lots of items at once. It requires the most charcoal (Brisket: 150 briquettes). 
–18″ is great for almost all types of smoking and will even fit large butts, but the rib racks will likely need to be cut to size. Less charcoal (Brisket: 100 briquettes). If you don't care about shortening the rib racks and don't need to cook huge amounts at once, the 18″ is your prime candidate since it uses less fuel than the 22″ while still fitting lots of meat inside.
–14″ is for those who don't have much room at the house but still want the flavor. Least fuel required (Brisket: 75 briquettes). 
Features
This charcoal smoker features a porcelain-enameled bowl and lid that retain heat for consistent smoking, making it possible to slow smoke or barbecue large quantities of meat. The lid also comes with a built-in thermometer that measures temperature between 100°F to 300°F. If you need to adjust the temperature, simply move the dampers on the bottom of the smoker.
The water pan helps regulate the temperature inside the smoker and add moisture to the heat, which results in juicy, tender meat
This grommet allows you to conveniently check the internal temperature of the grill and of the meat, making it perfect for use with the Weber Connect Smart Grilling Hub. The Connect Hub connects to your phone via Bluetooth and lets you monitor your cook all the way through, ensuring that your food is cooked perfectly every time.
Weber's 18-inch Smokey Mountain Cooker is made of porcelain-enameled steel and comes with 2 nickel-plated cooking grates, perfect for smoking meats, poultry, fish, vegetables, and more. This smoker also includes a water pan, thermometer, individual vents on the bowl and lid, and a heat-resistant nylon handle.
Pros
temperature management is done by the four adjustable vents
the water pan keeps chicken and ribs moist.
Simple and easy-to-follow instructions
plenty of space to cook a large amount at once.
can fit 4 baby back ribs
Easy to move around
great for first time smokers and first time charcoal users
Great for smoking pork butts, picnic roasts, briskets, brats, hams, sausages chicken ,and some veggies .
Cons
Smoking in cold weather requires more time and more charcoal
Best Portable Pellet Grill and Smoker Combo: Traeger Grill Ranger


Traeger Grills Tailgater 20 Portable Wood Pellet Grill and Smoker is the perfect way to get that wood-fired taste without having to use gas or charcoal. This grill is extremely versatile as it can be taken anywhere you go. With its EZ fold legs and compact design, it is easy to set up and take down.
The digital arc controller maintains a plus/minus 15 degrees F temperature control to guarantee precision grilling. The grill's temperature range is 180-450 Fahrenheit, giving you many options when deciding what to cook. The grill also has a capacity of 300 sq inches which means you can cook 12 burgers, 3 racks of ribs, or 2 whole chickens at once!
Features
6-in-1 versatility to grill, smoke, braise, roast, bake, or BBQ
With consistent temperatures and all-natural hardwood pellets, you'll get the outstanding flavor in everything you grill, smoke, bake, roast, or braise. 
The compact, portable design of the Tailgater 20 is perfect for tailgating or any other time you want to take great taste on the go. 
Pros
great for cooking food while RVing.
great for making pork ribs and smoked salmon.
Reaches high temperature quickly
foldable legs that set pretty much on any flat surface
easy to assemble and use.
Lightweight
perfect for a smaller patio and packing it for camping or tailgating.
Cons
The legs are short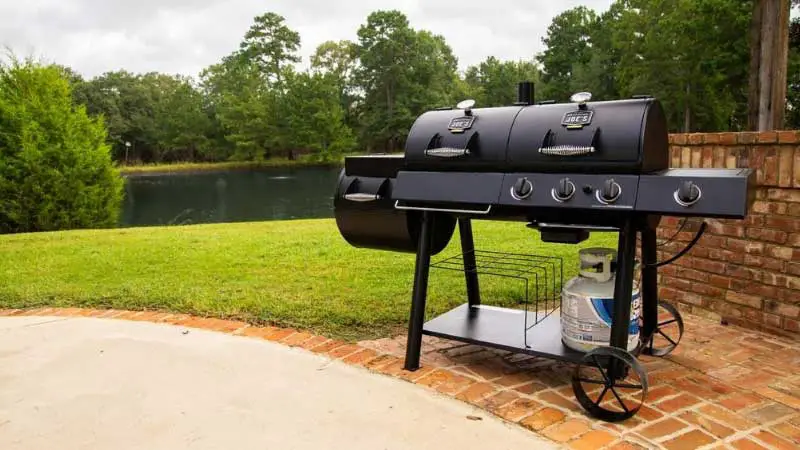 Buying Guide
What Does It Mean To Be A Combination?
A combination grill and smoker means that the appliance can both grill and smoke food. This allows for a wider variety of cooking options in one compact appliance. They often come with both traditional grilling surfaces as well as a separate smoking box or chamber.
Why Choose a Combination Grill Smoker?
One of the biggest benefits of a combo is convenience. Instead of having to buy and store two separate appliances, you have everything you need in one compact unit. Plus, being able to switch between grilling and smoking without switching appliances means more efficient and seamless cooking.
Another advantage is cost savings. Buying a combo can often be more affordable than buying separate grills and smokers, especially if you're just starting out or don't have a lot of space for multiple appliances.
Finally, combo grills and smokers offer more versatility in cooking options. You can easily switch between traditional grilling, smoking, and even slow cooking all in one appliance. This allows for more creativity and experimentation in your outdoor cooking.
What Are the Different Types of Fuel Options?
The most common fuel options for combo grills and smokers are wood pellets, charcoal, or gas/propane.
Propane: Propane gas is the most common fuel option for grills, and combo grills are no exception. It's easy to set up and use, with an instantly adjustable heat source.
Charcoal: Charcoal adds a unique smoky flavor to food and is relatively affordable, but can be messy and time-consuming to set up.
Wood Pellets: Wood pellets offer a similar smoky flavor as charcoal, but with the convenience of propane gas. They also tend to burn more evenly and consistently for better temperature control.
How Does a Smoker and Grill Combo Work?
The basic principle is the same as traditional grilling and smoking methods. Heat is applied to the food, either directly or indirectly, for cooking and flavor. The combo grill will have both a traditional grilling surface and a separate smoker box or chamber.
For grilling, the heat source (such as propane gas or charcoal) is placed below the grate where the food is placed. This direct heat cooks the food quickly on the outside while keeping it juicy on the inside.
For smoking, the heat source is placed away from the food in a separate box or chamber, allowing for indirect heat and slower cooking. This allows smoke and flavors from wood chips or pellets to infuse into the food for that classic smoky taste.
What Should I Look for When Buying a Combination Grill Smoker?
When shopping for a combo grill smoker, consider factors such as the size and cooking space, fuel type, temperature control options, and construction materials.
Size and Cooking Space: Think about how much food you'll typically be cooking at once and choose a grill with enough cooking space to accommodate it. It's also important to consider the overall size of the appliance and whether it will fit in your outdoor cooking area.
Fuel Type: Consider which fuel type is most convenient for you and fits your budget. Keep in mind that some models may only offer certain fuel types, so make sure it matches your preferences.
Temperature Control Options: Look for a combo grill smoker with temperature gauge and adjustable heat settings to ensure more accurate and consistent cooking results.
Construction Materials: Choose a combo grill smoker that is made of durable materials, such as heavy duty steel or cast iron, to ensure long-lasting use. Keep an eye out for rust-resistant features as well.
Insulation and build quality: The better insulated and well-built the smoker, the more consistent and efficient it will be at maintaining temperature. Look for a thick steel construction with tight seals on doors and lid to retain heat.
Technology and features: Some combo grills and smokers come with additional features, such as Bluetooth or Wi-Fi connectivity for remote temperature control, or a built-in meat probe for more precise cooking. Consider which extra features might be useful to you and factor them into your decision.
FAQs
What is the best smoker and grill?
This answer will vary depending on personal preferences and budget. Some popular options include the Traeger Pro Series 22, Char-Griller E166 Akorn Kamado, Kamado Joe Classic III, and Pit Barrel Co. Cooker.
What is the difference between a smoker and a grill?
While both grills and smokers use heat to cook food, grills typically cook food quickly at high temperatures while smokers cook food slowly at low temperatures for extended periods of time. Smokers also often have added moisture in the cooking chamber to infuse food with a smoky flavor.
Can you smoke on a gas grill?
Yes, it is possible to smoke on a gas grill by using wood chips or chunks to create smoke. Some gas grills also have a dedicated smoking box or tray. However, it is typically more difficult to maintain a consistent low temperature for extended periods of time on a gas grill compared to a dedicated smoker.
Is smoking healthier than grilling?
There is no clear answer to this question as it depends on the type of meat and cooking method used. In general, leaner cuts of meat are typically healthier choices regardless of cooking method. However, studies have shown that consistently exposing meat to high heat (such as in grilling) can increase the formation of certain carcinogens.
On the other hand, smoking at lower temperatures for extended periods of time may result in the formation of other harmful compounds. Overall, it is important to practice proper food safety techniques and limit consumption of heavily processed or charred meats.
Can you grill on a smoker?
Yes, many smokers also have a designated area or rack for grilling food over direct heat. Some combo smoker grills also have separate cooking chambers for both grilling and smoking. However, it is important to note that using a smoker as a grill may affect the overall smoky flavor of the food.
What kind of smoker should a beginner get?
For those just starting out with smoking, a simpler and more budget-friendly option such as a charcoal or electric smoker may be a good choice. As you gain experience and determine your specific preferences, you can then consider investing in a higher end smoker or combo grill.
Is a Traeger a smoker or a grill?
A Traeger is a type of wood pellet grill, which means it can both grill and smoke food. However, some people may also refer to a Traeger as simply a smoker due to its ability to infuse food with smoky flavor.
Do they make smoker grill combos?
Yes, there are several options for combo smoker grills on the market. These often have separate cooking chambers or racks for both smoking and grilling. Some popular brands include Traeger, Char-Griller, and Kamado Joe.
Are combos better than getting a separate grill and smoker?
This will vary depending on individual preferences and needs. For those with limited space or budget, a combo grill and smoker may be a good option to meet both grilling and smoking needs in one unit. However, some barbecue enthusiasts prefer to have dedicated grills and smokers as they feel it allows for greater control over temperature and smoke levels while cooking different types of food.
Does Traeger make a combo grill?
Yes, Traeger offers combo grill options such as the Pro Series 22 and Ironwood 650. These have separate cooking chambers for both grilling and smoking.
Is charcoal or electric smoker better?
This will depend on personal preferences and circumstances. Charcoal smokers typically offer a higher heat range and deeper smoky flavor, but can require more effort in terms of temperature control and adding coals during the cooking process.
Electric smokers are often easier to use and maintain consistent temperatures, but may not provide as strong of a smoky flavor. Some people also prefer the taste of food cooked over charcoal compared to electric.
What is better gas or electric smoker?
Similar to the above answer, this will depend on personal preferences and circumstances. Gas smokers can often reach higher temperatures and provide a stronger smoky flavor, but may be more expensive and require the use of propane. Electric smokers are typically easier to use and maintain consistent temperatures, but may not provide as strong of a smoky flavor.
What smoker do pitmasters use?
This can vary greatly among pitmasters and barbecue enthusiasts. Some popular options include offset barrel smokers, ceramic kamado grills, and wood pellet grills. Ultimately, it will depend on the individual's preferences and techniques for achieving their desired taste and texture in smoked meats.
What qualifies you as a pitmaster?
There is no set qualification for being a pitmaster. Some may have formal culinary training and experience in professional barbecue settings, while others may simply have a passion for smoking meats and honed skills through personal practice and experimentation.
Generally, the title of pitmaster is given to those who are highly skilled and knowledgeable in smoking various types of meat to perfection.
Who is the most famous grill master?
There is no one definitive answer to this question as it can vary among barbecue enthusiasts. Some popular pitmasters and grill masters include Aaron Franklin, Tuffy Stone, Myron Mixon, and Rodney Scott. They have gained fame through competitions, television shows, and their BBQ restaurants.
Conclusion
All of the smoker grill combos on this list would be great additions to your outdoor cooking collection. If you are in the market for a smoker grill combo, any of the ones above would make an excellent purchase. They all have features that will help you cook amazing food for your friends and family. So, what are you waiting for? Pick out one of these smoker grill combos and start grilling!
Learn More About Grilling
If you want to learn more about grilling, check out these other helpful resources!