Discover the Exquisite Mezcal Cocktail: Unleash your taste buds with our tantalizing blend of smoky mezcal and vibrant flavors. Indulge in a sensory journey that combines tradition and innovation, as we redefine the art of mixology. Sip on the perfect fusion of Mexican heritage and contemporary craftsmanship, for an unforgettable cocktail experience.
Smoky Basil Oaxacan Mezcal Cocktail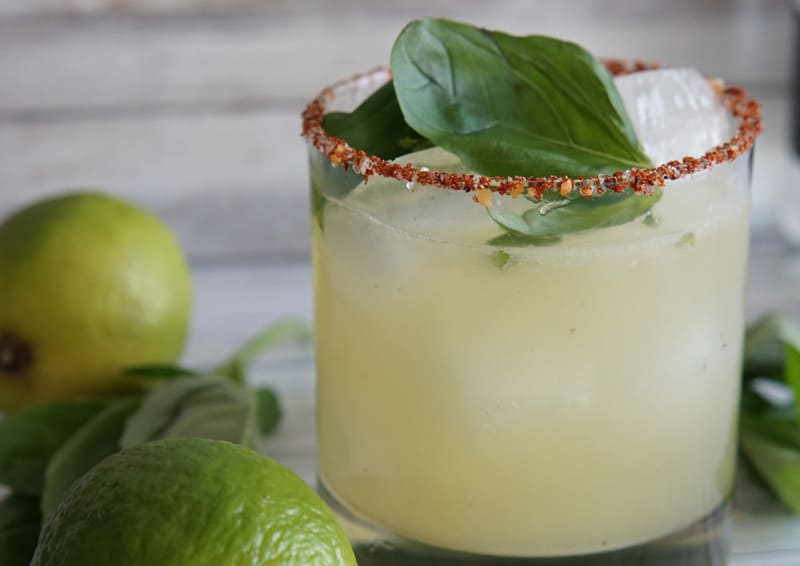 The Smoky Basil Oaxacan Mezcal Cocktail is a delicious and refreshing cocktail that combines the smoky flavor of mezcal with the freshness of basil and the sweetness of agave syrup. It's a perfect blend of flavors that will impress your friends at your next party. The cocktail originated at the Hilton Reforma in Mexico City, where they make it table-side. You can recreate this experience by setting up your own table-side preparation of the cocktail.
Mezcal is a smoky liquor made from roasted agave plants, similar to tequila but with a stronger smoky taste and aroma. Most mezcal is made in Oaxaca, Mexico, which has an Appellation of Origin designation like Champagne or Cognac in France. The cocktail gets its name from this region. Mezcal is made from various species and varieties of agave plants, which take several years to mature before they can be harvested for their juice.
What is Mezcal and Where to Get It
Mezcal is a smoky liquor made from the juice of roasted agave plants. It has a similar base ingredient as tequila, but its production process and flavor profile are distinct. Mezcal is known for its rich, smoky taste and earthy aroma, which sets it apart from other spirits.
To get your hands on some mezcal, you can explore various brands that offer different levels of smokiness. QuiQuiRiQui, Alipus, Del Maguey, and El Silencio are some popular mezcal brands worth trying. These brands provide a range of options in terms of taste and smell, allowing you to find the one that suits your preferences best.
If you're looking to purchase mezcal in the United States, Saucey is an online platform that offers delivery services in 20 major cities. They have a wide selection of spirits, including mezcal, with no minimum order requirement and free delivery. You can also check out local liquor stores or specialty shops that stock mezcal for a more personalized shopping experience.
How to Make an Oaxacan Mezcal Cocktail
This Oaxacan Mezcal Cocktail is super easy to make and packed with flavor. Here's how you can make it at home:
1. In a cocktail shaker, muddle basil leaves and lime wedges together until well combined.
2. Add ice, Mezcal, lime juice, and agave syrup to the shaker.
3. Shake the mixture well to combine all the ingredients.
4. Rim an old fashioned glass with salt and fill it with ice and extra basil leaves.
5. Pour the cocktail over the ice in the glass.
6. Enjoy your delicious Oaxacan Mezcal Cocktail!
This cocktail is perfect for any occasion, whether you're hosting a party or just want to enjoy a refreshing drink after a long day. Give it a try and let the flavors of smoky mezcal, fresh basil, and sweet agave syrup transport you to Mexico!
Salt Rim
The smoky basil Oaxacan Mezcal cocktail is elevated with a unique salt rim. Traditionally, a worm salt called Sal de Gusano is used to rim the glass. This salt, made from agave worms, adds a hint of earthiness and complements the smoky flavors in the cocktail. However, worm salt can be difficult to find outside of Mexico. As an alternative, bacon salt can be used for a smoky and flavorful garnish. Other flavored or spicy salts can also be substituted to add an extra layer of complexity to the drink.
Mezcal is a versatile spirit that can be enjoyed in various mixers and cocktails. While it is often mistaken for tequila, they are distinct in their ingredients and production methods. Mezcal is made from roasted agave plants and offers a smokier, earthier taste compared to tequila. There are different varieties of agave used to make mezcal, resulting in unique flavor profiles. The Oaxacan region in Mexico is known for producing high-quality mezcal recognized as an Appellation of Origin.
Alex Valencia, a NYC mixologist originally from Mexico, has created his own version of the Oaxaca Express cocktail that shares similarities with the Smoky Basil Oaxacan Mezcal Cocktail recipe mentioned above. His recipe can be found by searching his name on Google. It's always exciting to explore new recipes and variations created by talented mixologists like Alex Valencia.
In conclusion, mezcal cocktails offer a unique and sophisticated twist to traditional mixed drinks. With their distinct smoky flavor and versatility, mezcal-based concoctions are gaining popularity among cocktail enthusiasts. Whether enjoyed straight or in creative recipes, mezcal adds depth and complexity to any drink experience. So, why not explore the world of mezcal cocktails and elevate your next happy hour?

Learn More About Grilling
If you want to learn more about grilling, check out these other helpful resources!